PRODUCTION IN INJECTION MOLDING

INJECTION MOLDING AND FINISHING
Bringing parts into shape particularly efficiently –
an art that we are continuously refining.
TPE Sealing is well equipped to face the competition: We have long since established ourselves as a specialist in complete solutions for complex molded parts in one-component and multi-component injection molding. Our expertise in injection molding is recognized as well as our permanently expanded range of services relating to toolmaking, project / quality management and logistics.
RANGE OF SERVICES
Thermoplastic and TPE injection molding from 50t – 1,000t clamping force and shot volume up to 5.000 cm³
Rubber and silicone injection molding from 40t – 450t clamping force and shot volume up to 1,800 cm³
one- and multi-component injection molding [turntable, spin plate, index …]
Insert molding with inserts on vertical and horizontal machines
Foam injection molding
Deburring systems and workplaces
Assembly workplaces
Quality controls
Series logistics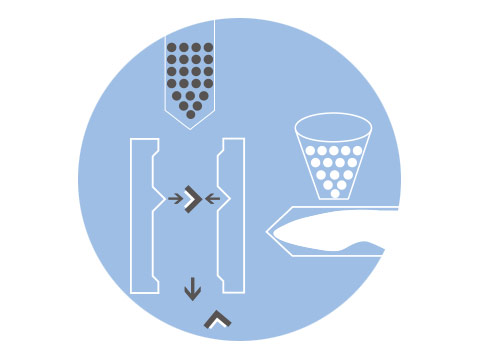 Logical for us –
to look at logistics holistically
Our logistics do not start with the dispatch of the finished products. We started here much earlier. Right at the beginning of the incoming order, to be precise. We interpret logistics as a holistic process for maximum customer satisfaction. Since we always see the individual customer requirements as the linchpin of the entire process, we align our entire logistics chain flexibly for each customer.